Contents to spread the charm of the Tohoku region
「The View from TOHOKU & NIIGATA」
This original work of TOHOKU HOUSE was produced by WOW who was born in Sendai and is active around the world. Images with the theme of "the four seasons", such as the natural scenery of Tohoku and Niigata and summer festival images that make full use of motion graphics (CG), will be screened on a huge 180-degree panoramic screen. This is the first ambitious work to challenge the technologies by mounting a 360-degree camera on a large drone to shoot landscapes and synthesizing (stitching) multiple images into 180-degree images.
*To find out where the filmed locations are, please refer to the list of filmed locations further down the page.

■180-degree Panorama Version

Experience the video installation as it is seen in the venue. Using a smartphone or tablet, you can enjoy 180-degree video.
■CinemaScope Version
The original 180-degree panorama video was edited tothe16:9 screen ratio in this version. The filmed location is also added on the bottom left of the video (the end roll is omitted).
Click here for a 5-minute short video.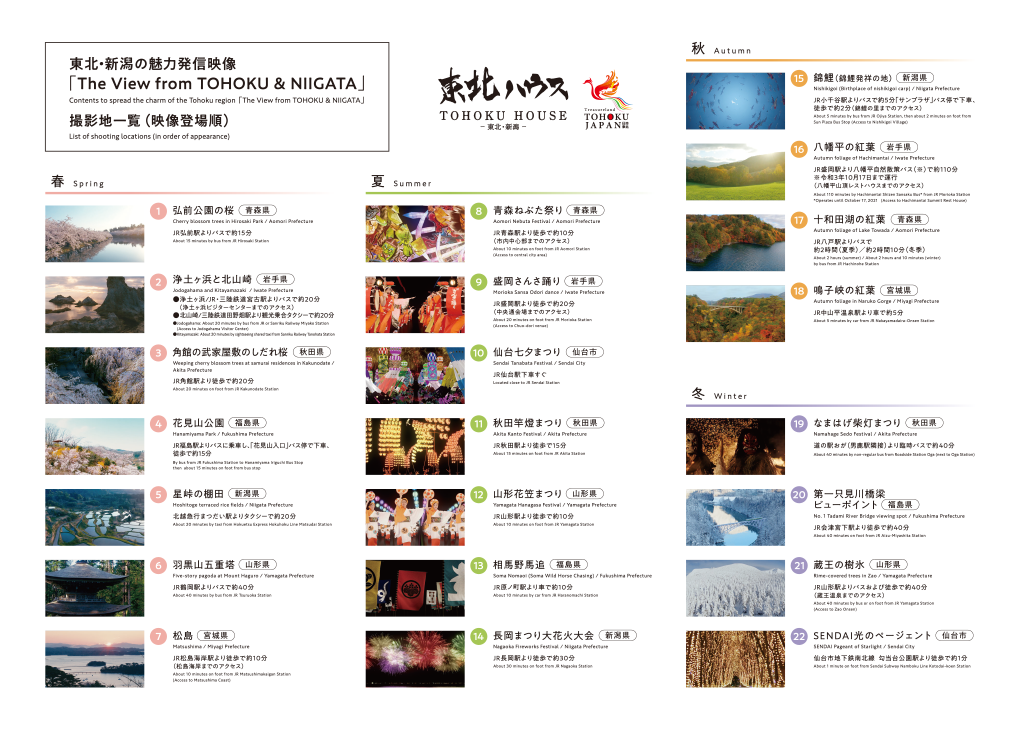 *For up-to-date information of summer festivals, please refer to the website of each festival.
Image creator WOW
This visual design studio is based in Tokyo, Sendai, London, and San Francisco. They develop a wide range of design works that cannot be bound by any existing media and categories and engage in various video expressions for advertisements such as commercials, VIs, and installation videos in various exhibition spaces and user interface designs developed in collaboration with manufacturers.
Recently, they have been actively producing original works of art and holding many installation exhibitions in Japan and overseas.
They continue to pursue new possibilities for video to fulfill the social functions of visual design while maximizing the sensibilities of the individual creators.