Panels of gratitude(Messages from those who work on the reconstruction)
Messages of gratitude from locals will be showcased with photographs and images. A variety of elements and episodes from reconstruction will be communicated.
Cooperation: Reconstruction Agency (production of materials other than those by the Support Group)
The Great East Japan Earthquake caused enormous damage to the Tohoku region.
Even now, ten years after the disaster, reconstruction efforts continue in affected areas.
In appreciation of the support that people have given to reconstruction, these Panels of gratitude highlight episodes in the reconstruction work of people who fought to overcome hardships following the earthquake in the prefectures of Iwate, Miyagi, and Fukushima.
The panels communicate the wishes of people who have moved step by step toward reconstruction, and show the present state of the areas.
They further express gratitude for the support received from around the world, as well as new initiatives and hopes for the future.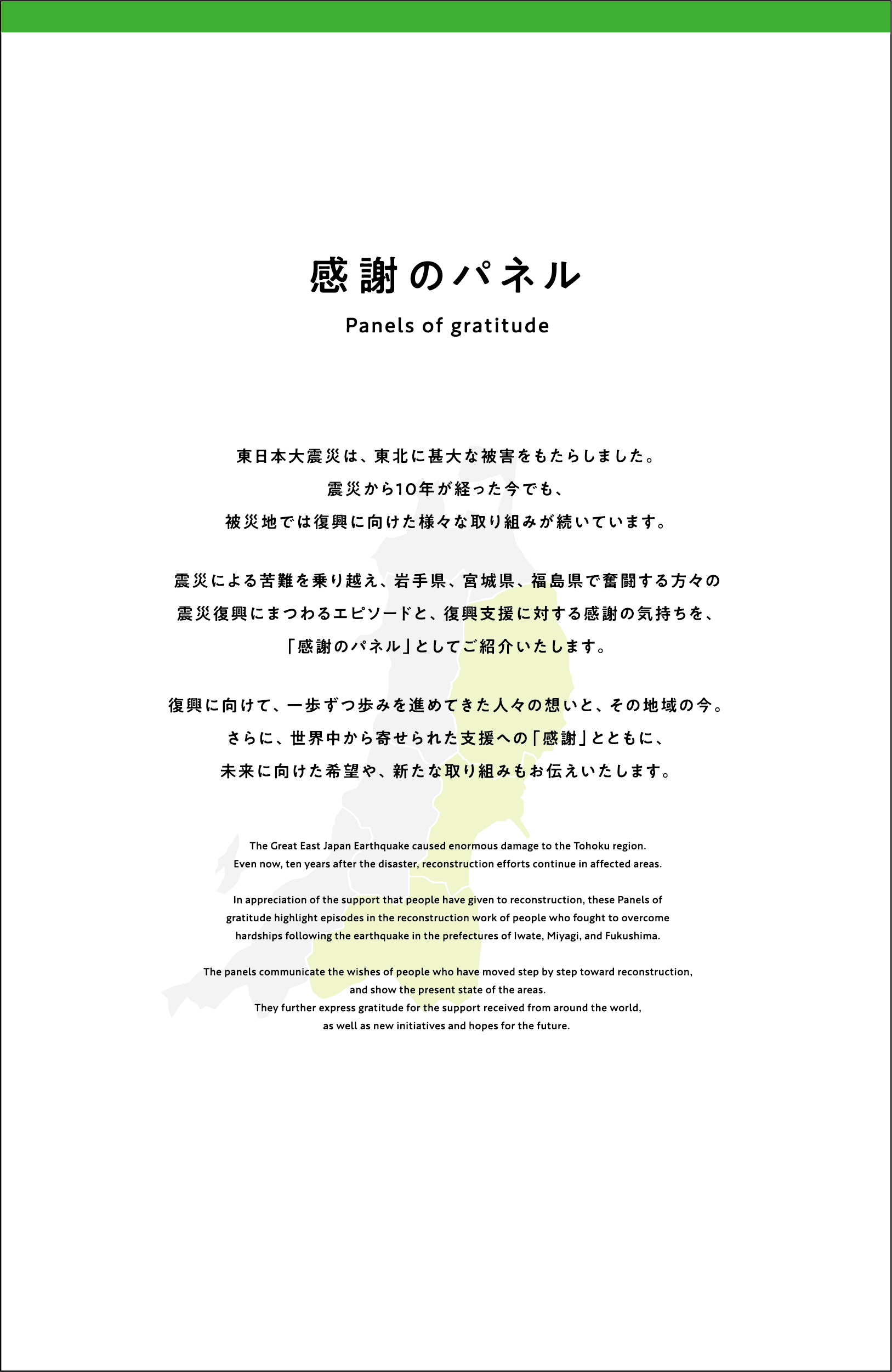 Reconstruction Agency-produced Videos
Iwate prefecture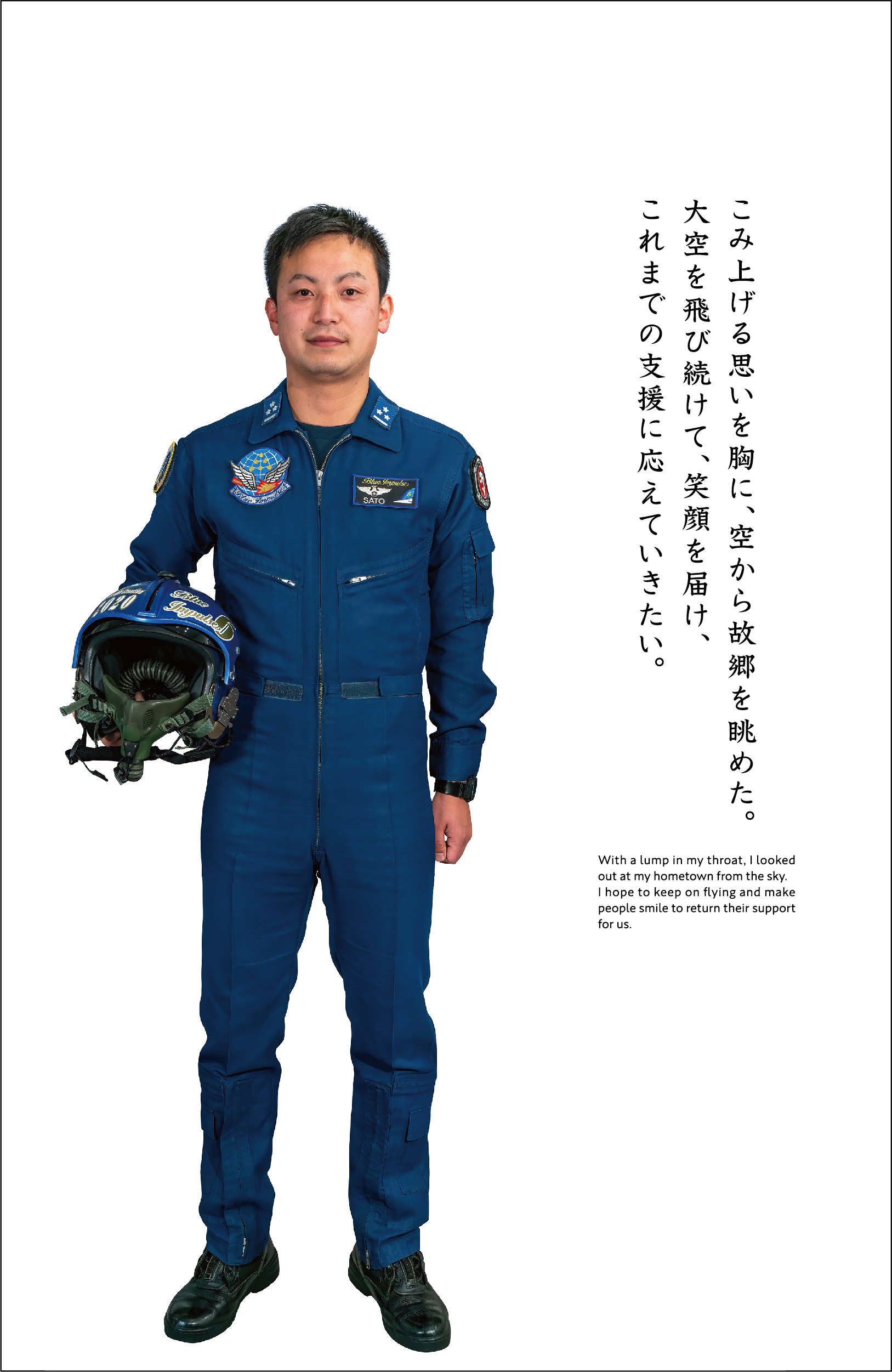 SATO Takahiro pilots the star No. 6 aircraft of the Air Self-Defense Force 11th Squadron Blue Impulse aerobatic demonstration team at Matsushima Base. He goes by the call sign "RIAS," in honor of his home region of Sanriku and its ria coast. Takahiro has excited crowds of people through his aerobatics performances at international sports competitions and reconstruction aid events. He was moved by his flight over his hometown at Rugby World Cup 2019, and was delighted to see a stadium able to hold international competitions appear less than nine years after the earthquake. At the same time, from the sky he also saw locations that had not been reconstructed. "I want to be someone who keeps on giving dreams, hopes, and smiles to a lot of people," says Takahiro, as he tackles his duties with a spirit of gratitude and with wishes for reconstruction.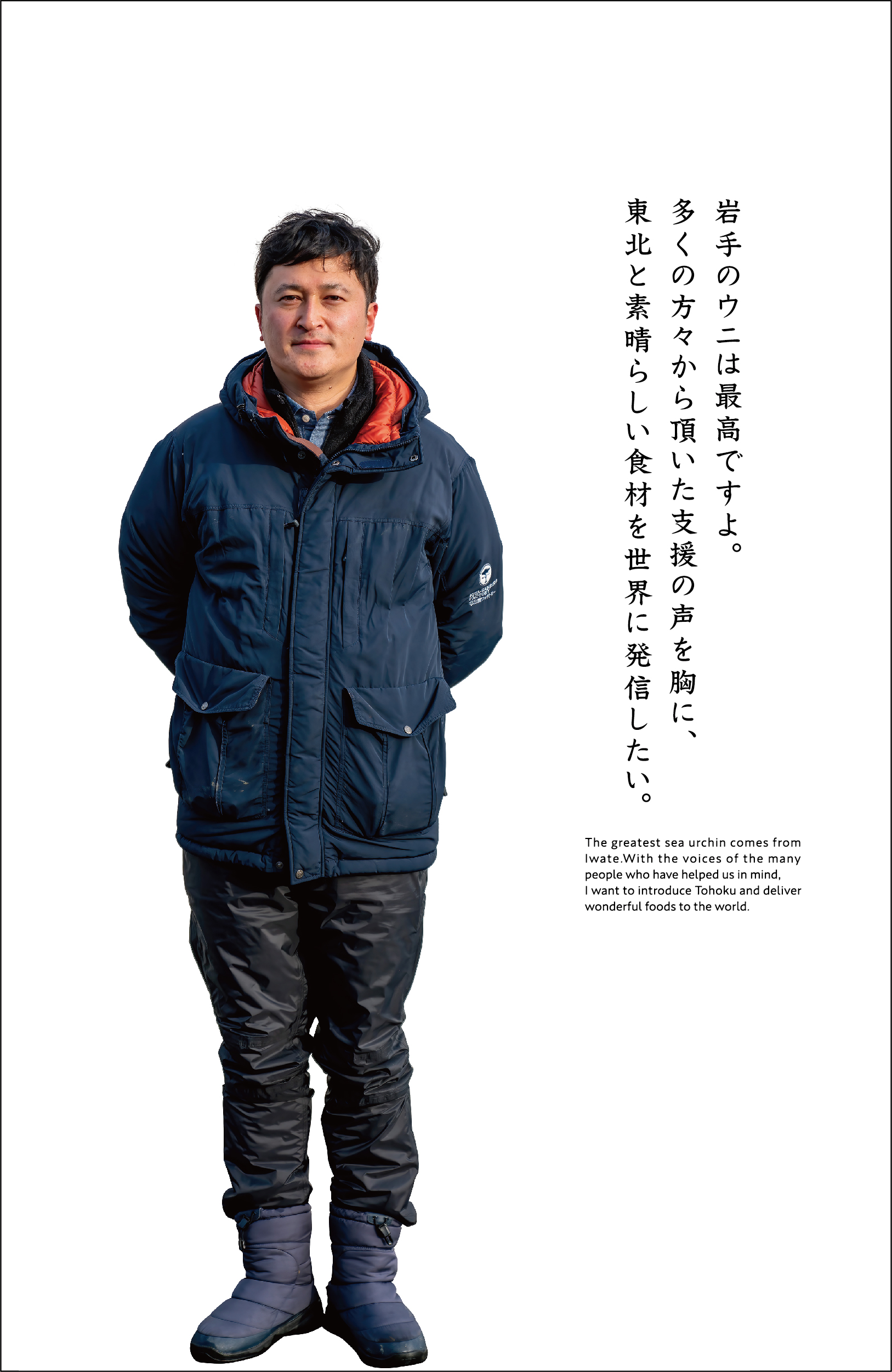 SHITAUTSUBO Yukinori, the CEO of KITA-SANRIKU FACTORY INC., sells sea urchins raised at the world's only "sea urchin farm." The quality of these urchins has been recognized by even chefs at Michelin-starred restaurants. Yukinori's home region was impoverished following the earthquake, but he was greatly encouraged by the many fans who praised the wonderful taste of sea urchins from Iwate prefecture. To respond to aid from outside and further promote reconstruction, a decade after the earthquake he is actively working to solve regional issues. His contributions include the launch of a sea urchin farming business to enable shipping of urchins in out-of-season periods by revitalizing devastated sea areas depleted of seaweeds due to global warming and other external factors.
"I want to make Tohoku an even more wonderful place by uncovering its wonderful foods and introducing them to the world," he says, as he shifts his gaze from the reconstruction of his local area to the reconstruction of all of Tohoku.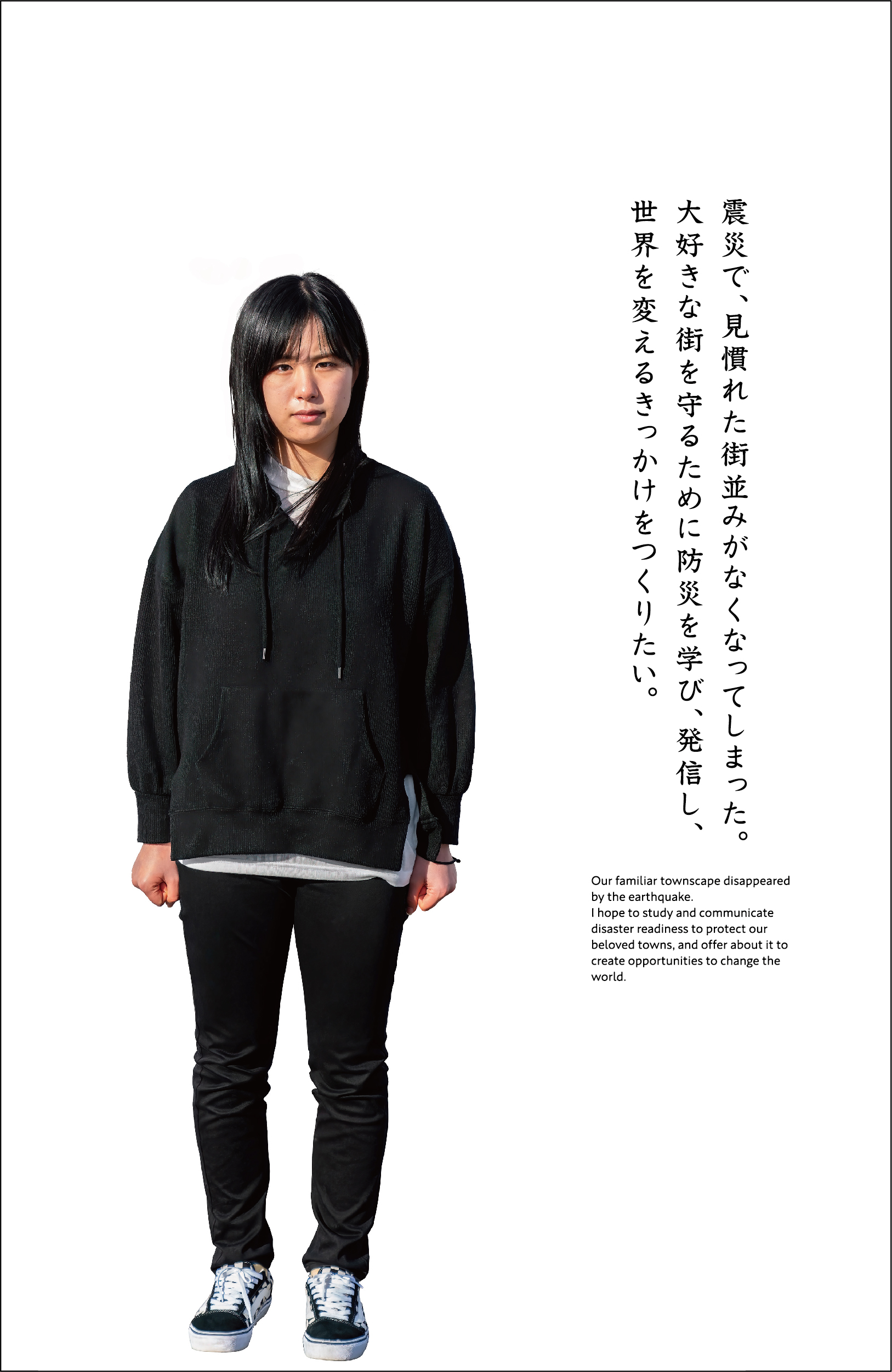 While a high school student in 2018, HORAGUCHI Rui delivered the kick-off declaration at the commemorative match to mark completion of the Kamaishi Unosumai Memorial Stadium, built on the site of the elementary school she had attended. Her speech, which began with the word "I love Kamaishi," moved many people. Life in an evacuation shelter after the disaster was not without difficulties, but people stepped forward to offer aid with things including school bags and stationery. Currently, Rui studies disaster readiness at university. She says she wants to draw on her personal experience to teach the importance of disaster readiness to children who did not experience the earthquake, to protect loved ones and the city she loves.
*Interviewed in December 2020 *Listed in alphabetical order
Miyagi prefecture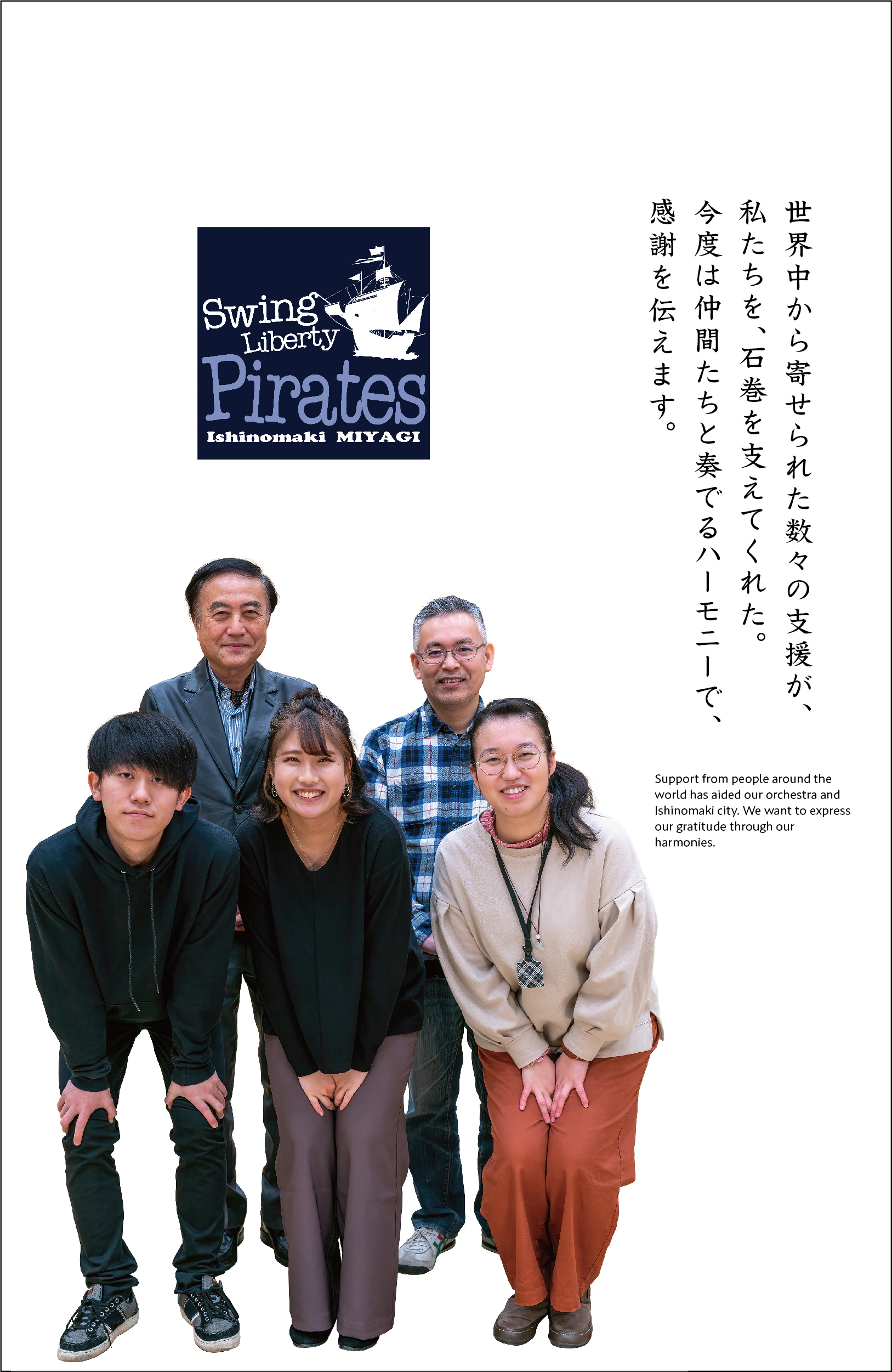 Ishinomaki Junior JAZZ Orchestra has 18 members who range from elementary school to high school. The group launched activities in May 2012, and received post-earthquake donations and aid from domestic and overseas organizations in the form of musical instruments and uniforms. Under the nickname "Swing Liberty Pirates," the orchestra has performed not only locally but on major stages including the Reborn-Art Festival × ap bank fes 2016 * and the world-famous Suntory Hall, to great acclaim. The members enjoy strong family-like ties; alumni still visit practice sessions. What has made it possible for the orchestra to continue has been people's words of praise. Music has the power to encourage others while inspiring the performers too. Ishinomaki Junior JAZZ Orchestra will continue sending out its harmonies from Ishinomaki city.
※ A pre-event held in 2016 before the general art festival Reborn-Art Festival 2017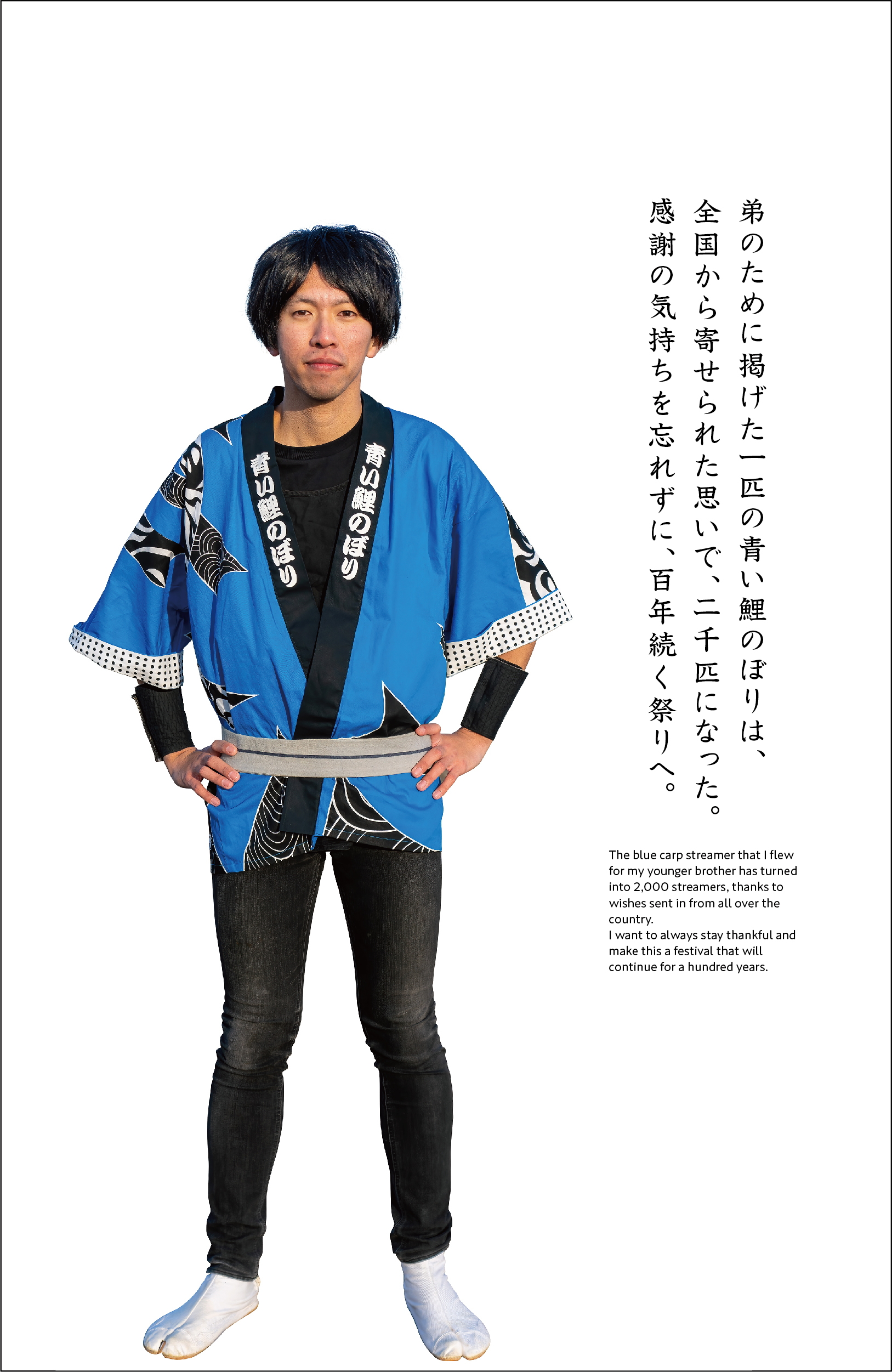 ITO Kento
Co-representative, BLUE CARP PROJECT
Higashi Matsushima city, Miyagi prefecture
ITO Kento, co-representative of the BLUE CARP PROJECT, lost four family members in the earthquake. In the rubble, he found the blue carp streamer that his late younger brother had loved, and flew it high. This was the start of the BLUE CARP PROJECT, which conveys condolences for the victims and hopes for reconstruction. Since its start in May 2011, the project has collected 2,000 carp streamers from well-wishers around the country. What brings strength to Kento is the ability to share remembrances of family members and feelings of love for family with so many people. In Higashi Matsushima city, the project's base of activities, the Aoi area has been improved under reconstruction urban development. Kento was deeply moved by the place name "Aoi"—meaning "blue"—that happened to be selected. As it moves into the future, the BLUE CARP PROJECT aims to create a festival that will continue for the next 100 years.
*Interviewed in December 2020 *Listed in alphabetical order
Fukushima prefecture
Andrew COOMBS
Fukushima City Tourism and Convention Association
Fukushima city, Fukushima prefecture (from Australia)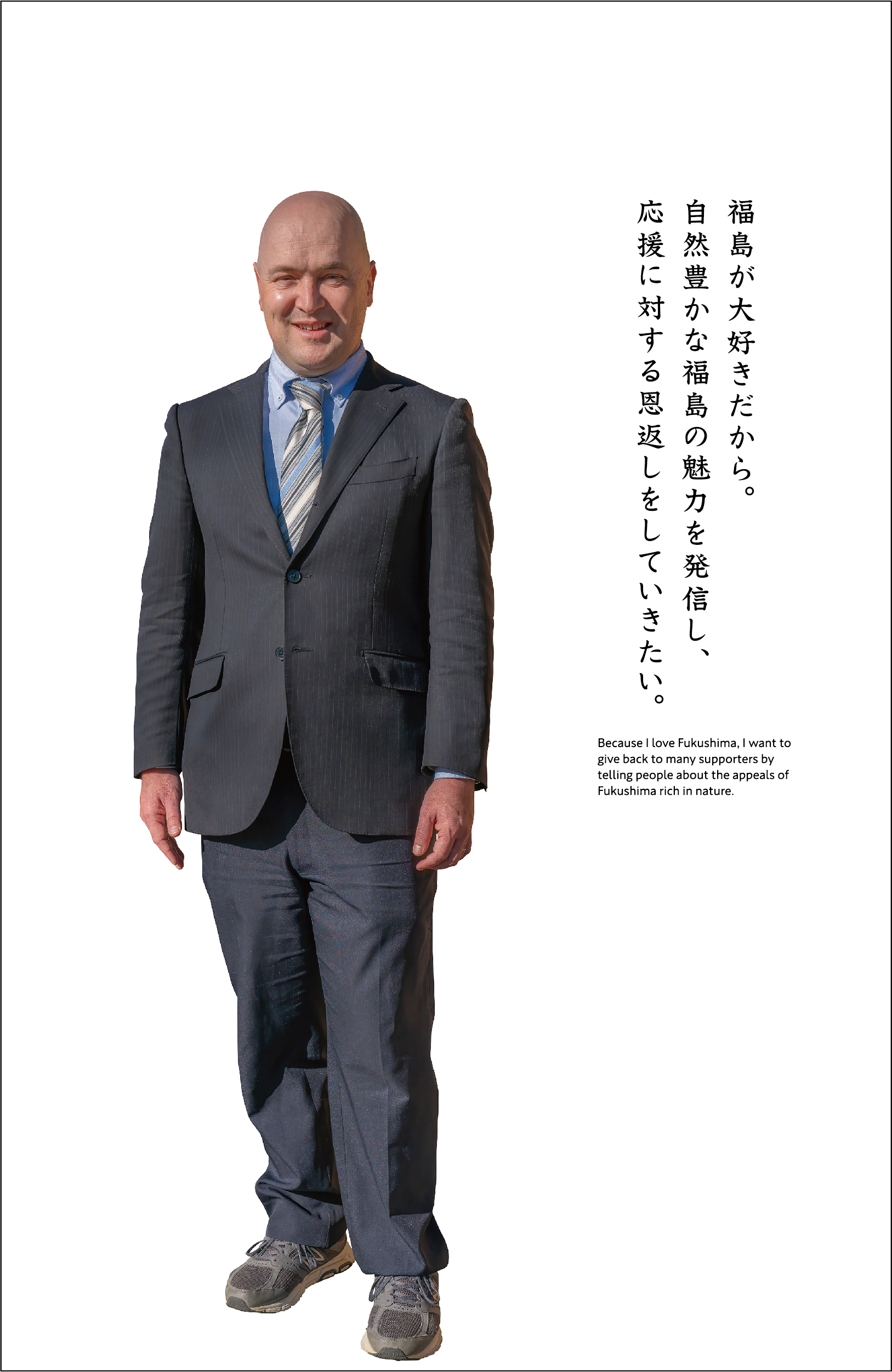 An Australian native working at the Fukushima City Tourism and Convention Association, Andrew COOMBS communicates information internationally on tourism, local products, and other Fukushima attractions. He was working as an English teacher in Nakajima village in Fukushima prefecture when the earthquake struck. Many people from his homeland were worried about his well-being, but he remained in Nakajima village out of concern for the children of the village. He returned home for a time in 2014 and studied Japanese so he could better communicate the appeal of his beloved Fukushima. Andrew is now back in Fukushima, working in tourism. He continues to send out information about Fukushima, uncovering new attractions and conveying them to the world as a way to pay back the support received from so many people.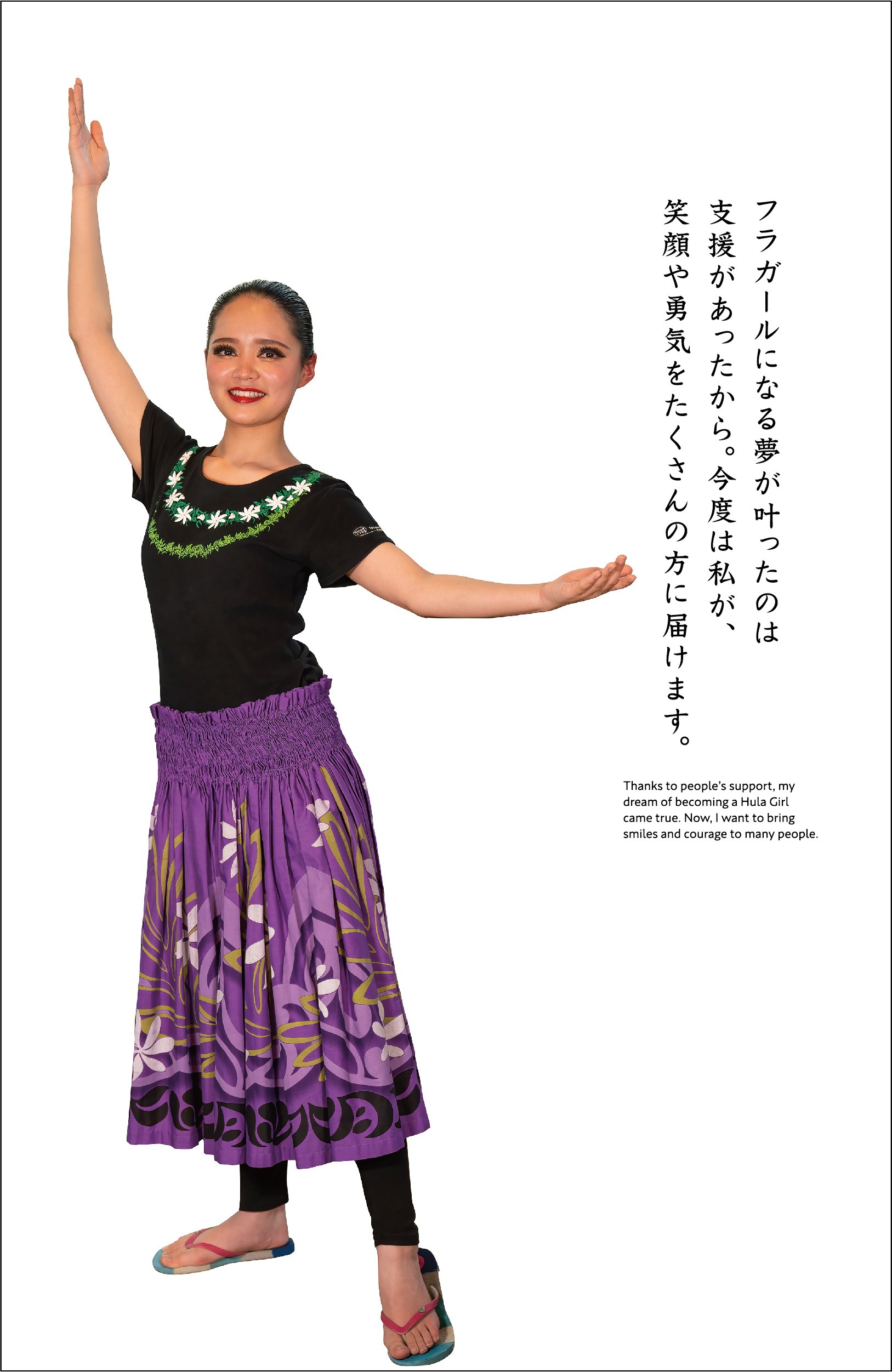 A member of the Spa Resort Hawaiians hula dance team, SAITO Haruka was affected by the disaster in Okuma town in Fukushima prefecture while an elementary school student. She was forced to live as a refugee in Aizuwakamatsu city and Iwaki city. "With help from many people with things like a school bag and stationery, I was able to return to a normal life," she says with gratitude.
Seeing the movie Hula Girls while in high school set her on a path to becoming a hula dancer. She now fills her everyday life with two shows a day, lessons, and training for junior dancers. She treasures the idea of instilling customers with smiles, courage, and dreams through dance, as the dancers before her have done. Haruka continues to train hard every day, saying, "I want to refine not only my dance but also my human quality as a full-fledged hula dancer."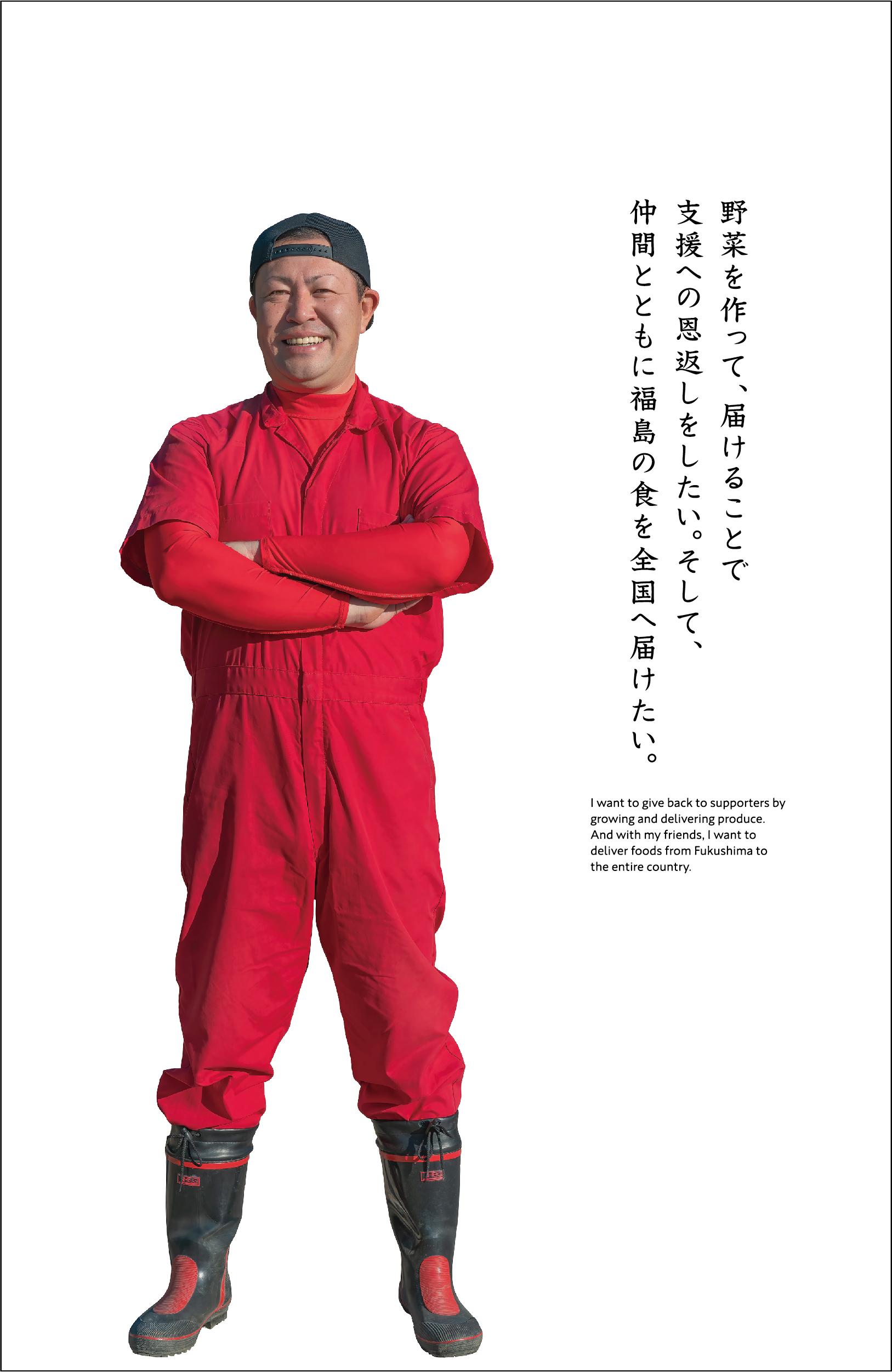 SHIRAISHI Nagatoshi of Farm Shiraishi is an eighth-generation farmer in Iwaki city, growing vegetables with a commitment to natural farming methods. After the earthquake, he experienced a situation of having to dispose of carefully raised produce. He thought about quitting the farming life, but couldn't let himself quit the fields that had continued for generations. He found inspiration to carry on under the motto "If I'm going to do this, I'll make it fun, cheerful, and delicious." Discovering through his experiences in the earthquake that connections with others are important above all, he is expanding his circle of interactions with many people, through activities such as holding hands-on harvest experience events and collaborating with local friends and chefs. "At greenhouses under construction, I'm thinking about going beyond farming to do all kinds of interesting things under the heading of an agricultural theme park," he says, putting his next dream into motion.
*Interviewed in December 2020 *Listed in alphabetical order